Wildfire® RKD apple
ESCANDE PLANTS SARL
The Wildfire® RKD apple is a very early gala. It differs from other apples in that it ripens 18 to 22 days earlier than conventional galas. The bright and intense red, washed and streaked fruit is very attractive. Its sweetness and juiciness make it a very promising apple.
This mutant originated in Washington State, USA. RICHARD CALLAHAN, a US citizen, discovered a branch bearing coloured fruit 3 weeks earlier than the other galas while walking in his orchards. The maturity was confirmed the following year. In July 2015, Benoit Escande travelled to the United States and relised the competitive advantages of this clone.
Very rapidly, trials were set up in France to observe the Wildfire® RKD under European conditions. The earliness and the very good colouring confirmed the unique and promising character of this new gala.
In 2020, the first harvest of the Virus Free trees took place at Escande: the fruits were picked on 8 July. The starch regression was 8/10 while the other Early Red Gala® Bigigalaprim or Schniga® Schnicored control varieties had not yet started theirs.
This new variety is the subject of a PVC application. Any early Gala mutant will eventually be comparable to Wildfire® RKD.
This very distinct mutation of gala offers a taste that is clearly superior to other galas and makes it possible to boost the market in the early season segment. To support the process, Escande is implementing an open marketing approach to guarantee and to communicate on a constant level of quality.
Manufacturer's details
Company name : RICHARD CALLAHAN
Address : 395 Clarence House Ave., Unit 101, North Las Vegas Nv., 89032 USA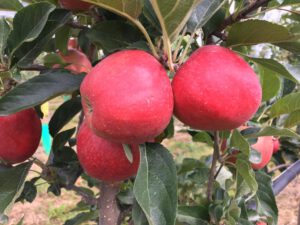 Nominated for SIVAL INNOVATION 2022
Company details
Company name: ESCANDE PLANTS SARL
Address: 1750 ROUTE DE LAPOUJADE
47500 SAINT VITE
Tel : 0614496700
Website : http://pepinieres-escande.com
---