Kissabel®
DALIVAL SAS
Dalival is not only a nursery supplying fruit plants to fruit tree growers but is active, internationally, for the creation and selection of apple, pear and stone fruit varieties thanks to IFO, its R&D station.
Among its major breeding projects, IFO has been working for more than 30 years on cross-pollinating and selecting red-fleshed apple varieties with a very good taste quality.
The selected varieties make up a range in itself: there are, indeed, red skinned apple varieties with a red flesh and different levels of red intensity, but also, and this is even more innovative, orange or yellow skinned apples with a pink flesh.
The range includes varieties of different maturity levels (early to late) and even disease resistant varieties. The common factor is their very good taste.
Kissabel® is the brand name for this new range of coloured flesh apple varieties, developed by Ifored, a consortium of 14 producers/marketers in 13 countries around the world. Seven varieties in this range are currently being launched commercially. The 2 French members of Ifored are Blue Whale and AMG (Association Mesfruit Gerfruit).
The ambition is to produce these 7 varieties and other new varieties of coloured flesh apples in 13 countries in the next few years and to sell them on markets worldwide.
Ifored's aim is to expand the range as IFO crosses new red and pink flesh varieties and to offer them to consumers in a simple and clear segmentation.
Manufacturer's details
Company name : Fiona Davidson
Address : Château de noue

Website : http://www.dalival.com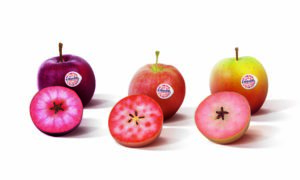 Category :
Innovation variétale

2022 SIVAL Gold medal winner
Company details
Company name: DALIVAL SAS
Address: Château de noue
02600 Villers-Cotterets
Tel : 0323965650
Website : http://dalival.com
---