JEANNETTE – CHESTNUT VARIETY
Invenio - INRAE - CTIFL
Jeannette is an early variety with an attractive fruit that is easy to peel and has a high taste value, making it possible to combine pleasure and practicality. Its attractive mahogany colour, its good size and its chestnut character make it a really interesting variety for the fresh product market and especially for roasted chestnuts. For orchards, the tree has interesting characteristics regarding tolerance to the main chestnut diseases and pests: ink, canker, cynips and rots. As far as its uses are concerned, 'Jeannette' is an interesting variety for new farming methods: direct sales, agroforestry, urban agriculture, hedges.
After 'Bellefer', 'Jeannette' (CA888) is the second variety resulting from the INRAE/CTIFL/INVENIO breeding programme. It is the first variety intended for the fresh market. This market imports more than 50% of its volumes from abroad. The impact of climate change and the emergence of new diseases could further increase this deficit. However, the health crisis we are experiencing is rekindling a growing demand for products of French origin. Because of its hardiness, this variety is able to meet these challenges.
Finally, the characteristics of its fruit, its vigour and its carriage make this variety a particularly good candidate for agroecological models such as direct sales of several products, diversification and agroforestry. It is also an ideal variety for amateur markets, individuals, gardeners, parks and gardens.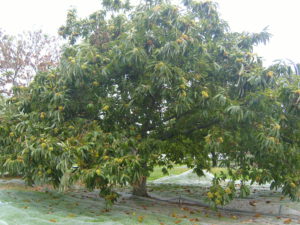 Category :
Innovation variétale

2022 SIVAL Silver medal winner
Company details
Company name: Invenio - INRAE - CTIFL
Address: MIN de Brienne - 110 Quai de Paludate
33800 Bordeaux
Tel : 05 53 80 39 33
Website : http://invenio-fl.fr
---