RED CRUSH® LETTUCE
GAUTIER SEMENCES
Red Crush® is the brand name of the first lettuces that are red to the core, and is a major innovation in the world of lettuces.
The objective of this project was to boost the lettuce market by responding to current consumer trends: colour brings attractiveness and pleasure to the plate, and easy-to-prepare lettuce types are popular with consumers.
Until now, the red colour of marketed lettuces was concentrated on the outer leaves. Our research programmes have succeeded in fixing the intensity of the colour thanks to genetic resources that allow the red colour  to express itself in a pronounced way even when light input is limited.
The challenge of the Red Crush® project was to combine visual attractiveness that would appeal to consumers with agronomic qualities that would allow producers to grow these varieties on a large scale. Our selection work made it possible to fix the internal red colour and to obtain good agronomic qualities, particularly in terms of size and vigour, which are essential prerequisites to enter the market.
Red Crush® lettuces have many assets to boost the Lettuce sector:
– For growers, they are a real asset for diversifying their range and have a strong potential
– For distributors, they add value to shop shelves and offer a mix of green and red lettuces
– For consumers, they are an attractive and easy to consume product
Our first series of varieties is made up of sucrine Er2114, mini Romaine N2061 and multi-leaf Redigo-2. They are intended for field cultivation, but can also be grown hydroponically.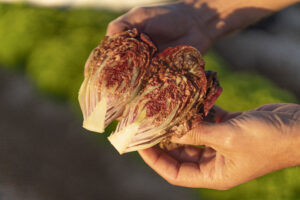 Category :
Innovation variétale

2023 SIVAL Bronze medal winner
Company details
Company name: GAUTIER SEMENCES
Address: GAUTIER SEMENCES, Route d'Avignon
13630 Eyragues
Tel : 0490240240
Website : https://www.gautiersemences.com/
---