SHALLOTS FOR SOWING, INNOVATOR F1
Bejo Graines France
The first shallot for sowing with high resistance to mildew (HR: Peronospora destructor). Innovator F1 is a hybrid variety with an elongated shape, copper colour and pink flesh. Suitable for long storage, it is ideal for the fresh market and the industry.
Mildew is present in most shallot producing regions. It occurs mainly in wet and cool weather and impacts the quality and yield of the crop. It infects the leaves of the shallot and eventually causes significant losses in the crop or completely destroys the crop.
Bejo, 15 years after developing several varieties of mildew resistant yellow and red onions, succeeded in developing a seedling shallot variety with this high resistance capacity, after many years of selection.
Varietal resistance makes it possible to very significantly reduce the use of chemical solutions to control the pathogen. Thanks to this genetics, Bejo allows producers, distributors and consumers to benefit from a healthier and environmentally friendly product.
Innovator F1 will soon be available in organic seeds and will adapt to all production methods aimed at reducing or eliminating the presence of residues in the final product.
Shallot have become essential ingredients for modern cuisine. They are rich in vitamins and have an extremely high concentration of flavonoids, mainly known for their antioxidant action. Innovator F1 has an attractive appearance and a mild, delicious taste with unique flavours. It can be eaten both raw and cooked.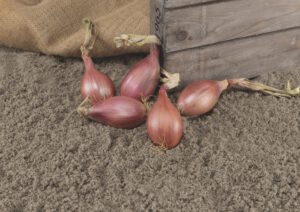 Category :
Innovation variétale

Nominated for SIVAL INNOVATION 2022
Company details
Company name: Bejo Graines France
Address: Beauchêne
49250 BEAUFORT EN VALLÉE
Tel : 0241572458
Website : https://www.bejo.fr
---