PATS-C
Biobest France
PATS-C is an innovative device equipped with an infrared camera that records the flight movements of noctuids (moths) over an area of 100 m², representative of the pests' activity in a one-hectare shelter. This new tool, consisting of two boxes that are easy to install and move around, thanks to their cable ties, detects the first flight of the moth pests and visualises the development of their population in vegetable, ornamental and fruit crops.
The data collected are automatically transmitted via the tool's built-in 4G connected system so that the processing software can quantify and identify the pests. To date, flight movement analysis provides growers with the accurate identification of nine species of moth pests like Tuta absoluta, Chrysodeixis chalcites, Duponchelia fovealis and Plutella xylostella. In the future, new species will be added to this panel through a simple software update.
The clear, precise graphs obtained with the software enable producers and their Biobest advisors to follow the population dynamics closely, in real time. These figures are reliable allies in deciding which crop protection actions to roll out.
Because PATS-C enables early, reliable and weekly detection without human intervention, growers can improve their yields, and save time and money in terms of plant protection.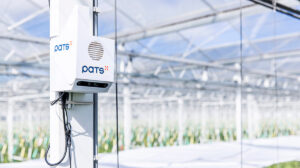 Category :
Services, software

2023 SIVAL Silver medal winner
---