Tracabilifruits ®
Widunn
The management of harvesting staff has a direct impact on a farm's profitability. In arboriculture, the shortage of seasonal workers, their training and supervision in the orchards, quality constraints and harvest periods and volumes are all factors that complexify this profitability still further.
To help treegrowers during these crucial periods, Widunn has developed Tracabilifruits: the very first patented automatic picking monitoring system for fruit picked into harvest baskets. Sensors attached to the baskets measure the quantity and quality of the harvest with each picker, training them while monitoring their performance. Basket emptying speed, shocks generated during picking and changes in basket volume are all analysed. This automatic, systematic, instantaneous monitoring encourages yield without risking a fall in harvest quality.
Sensors fixed to the handling equipment and remotely detectable smart labels stuck to the bins provide operators automatically with the following for each bin:
The picking place and date and a history of movement, so that flow management can be greatly improved and loss/waste reduced.
The hygrometry, temperature and picking time, so that the fruit storage strategy can be fine-tuned in the packing station.
The list of pickers who have contributed to filling it, making them responsible for the quality of their harvest: flaws/size/colour.
Information is fed back in real time via a smartphone application in order to analyse pickers' progress from dozens of metres away, and at the end of the day, when extremely detailed summaries can be accessed from a business intelligence web portal.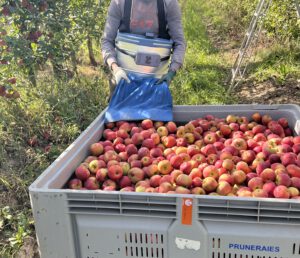 Category :
Services, software
Company details
Company name: Widunn
Address: 156 AV JEAN JAURES
47000 AGEN
Tel : 0760972158
Website : https://widunn.com/
---