ORIO®
Naïo Technologies
Launched in December 2021, the Orio tool carrier succeeds Dino for working on open field crops. Market gardening and row crops like sugar beet can gain from the technical and agronomic know-how provided by Naïo Technologies.  Several types of existing tools are compatible with Orio for seeding, hoeing and weeding in conventional plots, raised beds and mounds.
The tool carrier is guided by RTK GPS, and this can be reinforced by coupling it to an optical camera if rows sown by another machine are unevenly positioned. The result is precision work that reduces TFIs (Treatment Frequency Indices) and frees up labour.
Its forward speed goes up to 5.5 kph in autonomous mode. Mechanical safety devices and a LIDAR sensor stop the Orio if there is a nearby obstacle. Equipped with a geo-fencing (virtual barrier) function and the Naïo Core software system, this electrically-powered tool carrier can work for up to 8 hours in standard configuration. It can be upgraded, including with an optional battery pack. It is now easy to replace the tractor for certain uses while reducing the drudgery of unrewarding tasks, thanks to the Orio robot, designed and made in France.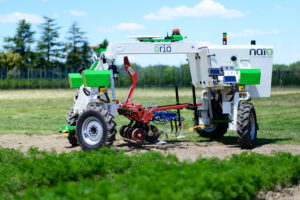 Category :
Machines and automation
Company details
Company name: Naïo Technologies
Address: 235, rue de la Montagne Noire
31750 ESCALQUENS
Tel : 0972454085
Website : http://www.naio-technologies.com
---