SKITERRE
SARL BG
This new patented concept involves replacing the cultivator component positioned hydraulically with a sensor and jockey wheel by a single ski placed on the ground, which gently weeds the foot of shrubs and vine stocks with a continuously adjustable force.
The SKITERRE mechanical weeder is based on the principle of skis, acting as both weeder and sensor, respecting the working depth without harming the vine stocks.
Its electronic-free design and the optional use of hydraulics to adjust the working width simplifies the machine's use and maintenance.
The position of the cultivator component is thus optimised in terms of working width and depth, limiting the risk of injuring or tearing the vine stocks. The intensity of the force used for gently weeding is pneumatically adjusted directly from the cab to adapt to the vines.
Manufacturer's details
Company name : BG
Address : 2 rue des Moulins
Ambillou-Château

Website : https://www.sarl-bg.com/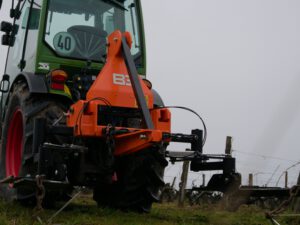 Category :
Machinisme et automatisme

2023 SIVAL Bronze medal winner
Company details
Company name: SARL BG
Address: Hilay - 2 Rue des Moulins
49700 TUFFALUN
Tel : 0630745572
Website : https://www.sarl-bg.com/
---