NOTIPHY BOX
Deaverde
NOTIPHY BOX is a smart object developed in Burgundy by two research fellows. It is an efficient way to find out whether a plot has been treated with pesticides and to avoid contaminating professionals, hikers or local residents during the re-entry interval (REI). Last summer, several professional magazines as well as national newspapers (Le Point, le Nouvel Obs, Boursorama) in France praised NOTIPHY BOX as one of the most interesting breakthroughs in this field. Internationally patented, NOTIPHY BOX protects anyone visiting a farming area from pesticide exposure by cautioning that a plot is a no-entry area for the duration of an REI.
NOTIPHY BOX is composed of a waterproof electronic box with a remote activated high visibility light. When spraying a chemical (treatment) substance, the operator activates the box using a remote control or a Smartphone. Once activated, the box broadcasts a light signal for a period of time matching the selected RIE.
NOTIPHY BOX is a great way to pass on sensitive information in an efficient yet discreet manner; customisable wooden casing, with the option of a printed roof made of composite material (Dibond), UV-resistant printing using eco-friendly inks.
Impact (EN 62262 – IK 07) and water (EN 60529 – IP 65) protection case (ABS) with four-screw quick hinge set on the lid for maximal waterproofness. (Continuous) operating temperature: – 40° → + 60°C, compliant with the UL94-HB flammability standard.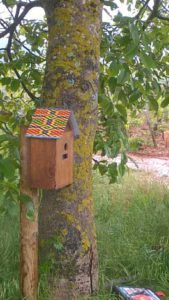 Category :
Solutions pour la production

Nominé pour le SIVAL INNOVATION 2019
Company details
Company name: Deaverde
Address: 13 rue saumaise
21000 DIjon
Tel : 0665230414
Website : http://www.deaverde.com
---