00H'Z®
Graines Voltz
OOH'Z® is an innovative brand of diversification crop seeds and plants intended to bring value to the entire vegetable growing sector in France.
The varieties under this brand combine innovative shapes, colours, flavours and types of use. The purpose of this collection is to help specialised producers and distributors diversify their product lines, while appealing to consumers in search of unusual, original and innovative vegetables.
Graines Voltz now provides specialised producers and distributors with the result of a unique project of variety sourcing carried out by their partner suppliers.
Varieties in the OOH'Z® collection are at the crossroad of the sector's needs:
– performance and agronomic reliability for French producers.
– security and flexibility of supply for distributors .
– matching consumers' wishes and requirements.
The OOH'Z® collection is built around the concept of consumer convenience but above all the idea of…
… viewing pleasure with a wide range of unusual colours, types and appearances
… tasting pleasure with delicious, unexpected and unforgettable flavours
… all-round pleasure with tasty and wholesome vegetables, ideal to boost your daily energy levels.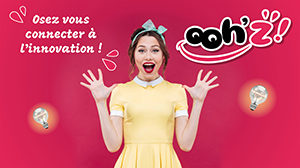 Category :
Solutions pour la production

Nominé pour le SIVAL INNOVATION 2019
Company details
Company name: Graines Voltz
Address: 17 rue Lavoisier
49800 Brain sur l'authion
Tel : 0241545712
Website : http://grainesvoltz
---