NetBeat™
NETAFIM
The NetBeat™ system comprises of a range of products (hardware, software and Cloud servers) designed and built for the planning, management and monitoring of irrigation and fertilisation on a farm.
The NetBeat™ system is a major and one-of-a-kind innovation on the market that combines three key elements on a single platform:
-Crop monitoring: field data acquisition using a wide array of sensors (e.g. soil moisture, climate data, etc.) and external data sources (weather services for instance).
-Control: ease of planning, programming and implementation of all irrigation and fertilisation schedules based on predefined programmes, sensor-based triggers or suggestions from Netafim Crop Models.
-Support and decision-making assistance: The platform's Cloud-based software process large amounts of data and built-in algorithms provide opportunities for multi-level optimisation. They give access to more than 50 years of expertise in irrigation and fertilisation as well as the agronomic know-how of Netafim's specialists, in order to maximise the quality and yield of crops.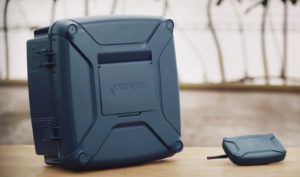 Category :
Services et Logiciels

Nominated for SIVAL INNOVATION 2020
Company details
Company name: NETAFIM
Address: ZONE D'ACTIVITES NOVACTIS - QUARTIER JEAN DE BOUC - 330 ROUTE DEPARTEMENTALE 6C
13120 GARDANNE
Tel : 0442668353
Website : http://www.netafim.fr
---