NATUTEC SCOUT
KOPPERT FRANCE
Regular crop health monitoring is key to bio-control success, yet it is also a time-consuming and error-prone task. This is why Koppert has designed a monitoring (or pest detection and identification assistance) application called NATUTEC SCOUT.
NATUTEC SCOUT is an intuitive mobile app combined with a dashboard that provides an instant overview of crops' health status. The application features an image recognition tool that automatically counts and identifies insect pests caught on chromatic traps, saving growers time, and considerably increasing reliability.
The dedicated dashboard offers growers the opportunity to perform a detailed analysis of the health situation in the greenhouse in order to adjust control methods.
– Using NATUTEC SOUT –
1. Customisation: NATUTEC SCOUT is a user-specific application: Each operator enters the specifications of their greenhouses (number of spans, plant count…), so that the application can then generate a schematic view of the greenhouse.
2. Crop monitoring: The people in charge of health monitoring (assigned employees, crop managers, third-party technical advisors) scan the chromatic panels using the mobile phone on which the application has been installed.
The app recognises the insects caught with great reliability.
3. Dashboard monitoring using a laptop, tablet or computer. The data generated by the scans are used to map crop health status. This mapping is a visual instrument to help you detect outbreak locations and monitor the progress of pests in your greenhouses.
It is possible to programme scenarios based on the detection thresholds defined by the producer and the Koppert technician (e.g. release of auxiliaries when reaching the threshold of XX pests).
NATUTEC SCOUT can also be used as a comprehensive crop logbook: all inputs from organic or conventional solutions can be documented over the entire crop cycle.
The dashboard can be accessed remotely by the advising Koppert technician, for reliable responsive remote monitoring adapted to the problems of the greenhouse under surveillance by NATUTEC SCOUT.
Manufacturer's details
Company name : Koppert Biological Systems
Address : KOPPERT B V
Veilingweg 14
2651 BE
Berkel en Rodenrijs
Hollande

Website : http://www.koppert.com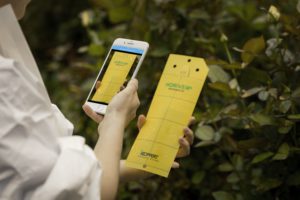 Category :
Services et Logiciels

2022 SIVAL Bronze medal winner
Company details
Company name: KOPPERT FRANCE
Address: 147 avenue des banquets
84300 Cavaillon
Tel : 0490783013
Website : http://www.koppert.fr
---