e-Gro
Grodan | Rockwool BV
The more you know,
the better you grow
Each step in cultivation is important and the decisions a grower makes today will have major consequences on the results of tomorrow. The amount of data typically logged in a greenhouse these days is staggering. Digitisation is playing an increasingly important role. Advances in Cloud expansion and IoT (Internet of Things) solutions have gained considerable momentum.
Up until now, it was difficult and above all time-consuming, to integrate all the data available in a greenhouse and make the right decisions accordingly.
Introducing e-Gro, Grodan's ultimate digital platform that integrates data from greenhouses for real-time presentation as part of a Precision Growing process. The e-Gro app is a highly valuable tool, which provides the data required to optimise a production strategy. Such data and analyses are available on an open software platform, which can be accessed anytime, anywhere. They provide a clear and comprehensive real-time snapshot of a greenhouse's crop, climate, irrigation and harvesting status. The app is therefore an enhanced monitoring tool to help you make the right decisions faster in order to optimise your harvests. Using this application, we will be able in the near future, to launch a harvest forecasting solution.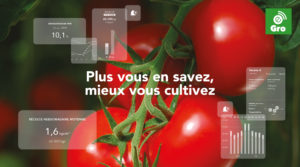 Category :
Services et Logiciels

Nominated for SIVAL INNOVATION 2020
Company details
Company name: Grodan | Rockwool BV
Address: Industrieweg 15
6045 JG Roermond
Tel : +31475353040
Website : http://www.grodan.fr
---