FARMDROID FD20
STECOMAT sarl
FARMDROID FD20 is the world's first fully autonomous robot capable of handling both seeding and mechanical weed control. We help farmers and producers to reduce seeding and weeding costs while doing it in a CO2 neutral way. By taking care of both sowing and weeding, the FD20 frees up time for more useful activities, while being a worthwhile investment for the farmer.
How does it work?
FARMDROID FD20 is an autonomous robot powered by solar panels that, using GPS RTK signals, records the location of each seed on each row at the time of sowing and then carries out mechanical weed control between and on rows.
This unique precision at seeding allows the crop to be cleaned very closely, minimising or even eliminating the need for manual weeding.
The four solar panels generate energy for a set of on-board batteries and provide up to 24 hours of CO2-neutral daily operation. This means you don't have to recharge the batteries externally and you can leave your FARMDROID FD20 working all season long.
FARMDROID®FD20 highlights:
Fully autonomous CO2 neutral unit

Precise sowing and weeding that guarantees improved yields

The precision and reliability of GPS technology

Early weeding process
For which crops?
FARMDROID FD20 has already sown and weeded a wide range of crops and the list is still growing. In 2020, farmers have sown and weeded sugar beet, onions, spinach, kale, valerian, flower seeds, oilseed rape, chicory and blueberry, among others. (Other crops are added on a continuous basis)
A single robot can sow and weed 20 hectares per season. Over a year with two seasons, the robot can manage up to 40 hectares.
The FD20 can handle several different crops and seeds, so a robot can easily be moved among fields with different crops. A single field can also be divided into smaller plots with different crops at different sowing distances.
In short, the FARDMROID®FD20:
is an autonomous robot for sowing and weeding without external recharging thanks to the solar panels

works without any CO2 emissions

has a GPS / RTK geolocation of each seed, does not depend on a camera

shows a possible return on investment from the second year

is EC approved and standardised so as to work alone in a field without a human presence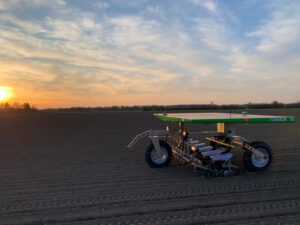 Category :
Machinisme et automatisme

2022 SIVAL Silver medal winner
Company details
Company name: STECOMAT sarl
Address: ZA de la Roubiague
47390 Layrac
Tel : 05 53 98 01 10
Website : https://stecomat.com
---