ASPAVIEW®
CoRHIZE
CoRHIZE, a specialist in irrigation management since 2007, has developed AspaView®, the first decision-making support tool dedicated to the production of white or green asparagus and that can be used all year round as it covers all stages of the crop.
It can be used to
–  control irrigation,
–  predict the production start date,
–  manage mulching during harvest and
–  estimate the volume of harvest at D+1, D+2, D+3
AspaView® is a complete kit. It combines a compact set of connected sensors and a specific module of the CoRHIZE application that can be accessed at any time and from anywhere on smartphones and PCs.
Using measurements at precise locations in the mound, this module can calculate the hours of cold and degrees per day for production arrival, alert on the risks of burning and blooming during the harvest, and give an indication of the volume of the next pick-ups.
It also allows the monitoring of water penetration in the soil, root consumption, layer by layer, and the calculation of irrigation volumes and frequencies according to the weather forecast. The projection of consumption hour by hour over the next 72 hours as well as the irrigation recommendations are updated in real time.
AspaView® allows to increase the turnover/ha by better expressing the production potential and improving the average quality of the harvest, while optimizing the water resources. It provides producers and technicians with a precise supervision for relevant decisions, and offers a better visibility to the sales teams.
CoRHIZE has developed AspaView® by combining its solid expertise in decision-making support tools with the experience of French and foreign specialists in asparagus production, producers, technicians and consultants. If some functions were scattered in different solutions, AspaView® gathers them, improves them and adds others to deliver a totally unique and innovative tool on the market.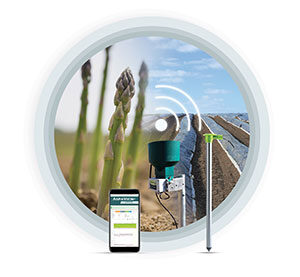 Category :
Services et Logiciels

2022 SIVAL Silver medal winner
Company details
Company name: CoRHIZE
Address: Agropole - Deltagro 3
47310 ESTILLAC
Tel : 0553772120
Website : https://corhize.com/
---