VITISAN®
ANDERMATT FRANCE
Vitisan® is a new potassium hydrogen carbonate based contact fungicide (99.5%). As a bio-control fungicide that also features on the French Biocontrol Product List, it is residue-free.
Approved for sale by the French National Agency for the Environment (ANSES) since February 8, 2018 for use on crops such as apple trees, vines and cucurbits with non-edible skin, it can be used in Organic Farming (in accordance with EC Regulation No. 834/2007). This solution has been substantiated by 43 tests carried out over 5 campaigns, in collaboration with the main technical wine institutes and bodies.
Vitisan® acts both preventively and curatively against powdery mildew.
As a selective product, Vitisan® has both a "stop" and curative action against scab up to 400 DH, once contaminating rains have started. It is now part of the exclusive group of curative fungicides. Use on dry or drying foliage is recommended.
Molecules of potassium hydrogen carbonate act on the pH level and the osmotic pressure, and damage the cell walls of pathogens, causing hyphae and spores, which are in contact with this solution, to dry out and burst. Adding a sulphur-based compound enhances preventative effectiveness. As part of a strategy aimed at controlling vine powdery mildew, Vitisan® can be applied before or after flowering. Its effectiveness and multi-site action are ideal for programmes involving alternating active substances to curb the emergence of resistance. Thanks to its outstanding profile (no classification, no residue), it can also be applied at the end of the cycle for its known effect against botrytis and lack of impact on wine flavours. Despite successive heatwaves in 2019, Vitisan® retained its selectivity potential in the vineyard.
As part of a strategy to combat apple scab, Vitisan® can be used at the end of the primary contamination (low to moderate pressure) and during secondary contamination phases. In summer (secondary scab infection), Vitisan® also turns out to be highly efficient against powdery mildew. In addition, it is active against sooty blotch and flyspeck.
• Approved dosage: 6kg/ha on vine against powdery mildew and 5kg/ha on apples against powdery mildew and scab, on melon and other cucurbits with non-edible skin against powdery mildew.
• Max. six applications per campaign
• TBH: 3 days for vine and melons, 6 days for apples
• Can be included in Integrated Biological Protection (IBP) programmes
• Can be used in Organic farming
• Listed in the Biocontrol Product directory
• CEPP factsheet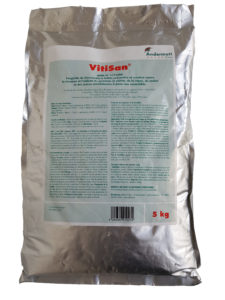 Category :
Intrants Protections des cultures et fertilisation

Nominated for SIVAL INNOVATION 2020
Company details
Company name: ANDERMATT FRANCE
Address: Créacticité -bâtiment A - Technopôle Izarbel
64210 BIDART
Tel : 0564115104
Website : https://www.andermatt.fr/
---