Trooper
INSTAR Robotics
Trooper is an autonomous mobile robot for handling potted plants in nurseries and horticultural facilities.
It performs repetitive and laborious handling tasks, such as grouping together (tightening) and spacing out (distancing) the pots. Thanks to an AI based on neural networks, it can fulfill such tasks in complete autonomy. It makes work less strenuous, prevents MSDs and compensates manpower shortages.
Trooper is very easy to use and can be ready to work on a facility in just a few minutes: following a quick set-up phase (pot size and shape, inter-pot and inter-line spacing), all you have to do is show it where to take the pots from and where to put them and Trooper is good to go! Once the job is done, it finds its way back to any given position and sends a text notification.
Boasting an 8-10 hour battery life, Trooper can work all day. Its battery can be recharged in max 2.5 hours and replaced in a matter of seconds for continuous operation. Last but not least, Trooper can work safely alongside human operators: it uses a laser sensor to detect and bypass them.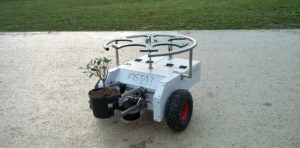 Category :
Machinisme et automatisme

2020 SIVAL Silver medal winner
Company details
Company name: INSTAR Robotics
Address: 20 rue Lavoisier
95300 Pontoise
Tel : +33648108688
Website : https://instar-robotics.com
---