DISC WEEDER ORBIS
ROLL N SEM
With the ORBIS disc weeder, it is now possible to get rid of weeds without tilling the soil.
Tilted discs, at opposite angles over two rows, roll and scrape the ground. In doing so, they slash through the plants, which wither and die.
ORBIS can be used to work either over the full width or in rows (hoeing) by simply removing the implements located over the rows.
It can therefore be fitted to any planting setup.
Company details
Company name: ROLL N SEM
Address: Za Larrousset
47600 NERAC
Tel : 0553650314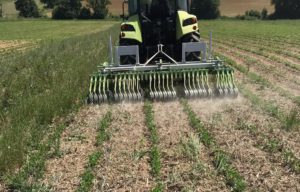 Category :
Machines and automation

2020 SIVAL Bronze medal winner
---