The smart plant-by-plant sprayer
Ecorobotix SA
VERY HIGH PRECISION SPRAYING WITH A SPRAY FOOTPRINT OF ONLY 6 X 6 CM IN ROW CROPS, GRASSLANDS AND INTERCROPS.
Ecorobotix ARA is a tractor-mounted Ultra High Precision (UHP) crop treatment solution that uses high-resolution cameras and AI to instantly detect individual plants (crops and weeds) in real time. The ARA UHP sprayer provides unparalleled precision by targeting areas of 6 x 6 cm to treat each plant one by one, far outpacing conventional solutions that spray the entire field, and outperforming the latest "smart" sprayers that only target areas of 150 x 150 cm.
With its plant-by-plant approach, ARA reduces the use of chemicals by 80-95% and raises crop yields by 5%, thus increasing overall crop profitability.
ARA can be used even in windy conditions, day and night, with different crops
(onions, carrots, lettuces, rape, volunteer potatoes) and for various
tasks (weed and pest control, fertiliser applications, etc.), providing
farmers and cooperatives with a quick return on investment.
ADVANTAGES OF THE ARA SPRAYER FOR THE USER
Work on the ground, raised beds or mounds
Effective on rows and inter-rows
Use of selective or non-selective products
Drastic reduction in phytotoxicity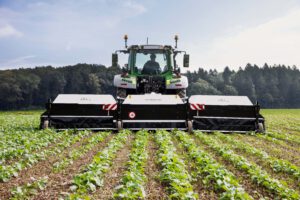 Category :
Machines and automation

2023 SIVAL Gold medal winner
Company details
Company name: Ecorobotix SA
Address: Rue Galilée 6
1400 Yverdon-les-Bains
Tel : +41 245244123
Website : http://www.ecorobotix.com
---