The AGRINEA® greenhouse
AGRILOGIC SYSTEMES
Faced with the problems of rapid global warming, more intense hurricane risks and a growing increase in pest pressure, AGRILOGIC SYSTEMES, experts in the construction of greenhouses for hot regions, have designed a new concept: the AGRINEA® greenhouse.
This new model of fully enclosed, insect and hurricane-proof greenhouse is equipped with an innovative 100% solar thermoregulation system. It also revisits the principle of the classic cooling system, whose efficiency limits are quickly reached in a hot and humid climate.
This inefficiency (all the more visible if the greenhouses exceed 40m in length) is due to the positioning of the Pads on the opposite walls of the extractors, thus limiting their number to the size of these walls.
To meet this challenge of greenhouse physics, Agrilogic Systèmes has designed a new asymmetrical architecture that increases the surface area of the evaporating panels and the number of air extractors without reducing the useful floor area or light penetration in the greenhouse.
The innovation consists in positioning solar air extractors vertically at the ridge of each chapel, distributed along their entire length, and placing the evaporating panels on the 4 sides of the greenhouse or under the interior pole lines.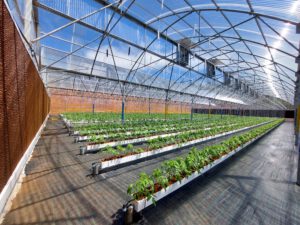 Category :
Solutions pour la production

Nominated for SIVAL INNOVATION 2022
Company details
Company name: AGRILOGIC SYSTEMES
Address: 164 rue georges leques
98800 noumea
Tel : 0782970772
Website : http://agrilogicsystemes.nc
---