TAURUS & SOLSTICE : RED PHOTOBIOLOGY APPLIED TO STRAWBERRIES
RED Horticulture
Greenhouse cultivation is in constant evolution. Every production parameter is controlled and optimised, among them light. At RED Horticulture, we believe in photobiology as a new tool for the producer. Our expertise: turning our knowledge of light-living systems interactions into global, efficient solutions that are adapted to the challenges facing producers.
Our turnkey solution involves 4 steps:
– Sensing: our READY environmental sensors continuously monitor all climatic data within the growing area. They are placed as close as possible to the strawberry plants and in several areas in order to obtain representative data.
– Control : The data is transmitted to the SOLSTICE climate computer. Thanks to the pre-configured plant model, it defines a lighting strategy in line with the variety, the stage of development of the plant and the producer's objectives.
– Lighting: The light strategy is applied by the TAURUS lighting systems, whose spectrum and intensity can be individually controlled to perfectly meet the needs of the crop.
– RED support: Thanks to the knowledge acquired through more than 40 greenhouse and laboratory trials, our agronomists have gained expertise on each strawberry variety. They support the producers throughout the growing cycle so as to develop and improve the lighting strategy.
This support enables the technological solution to be optimised to suit the needs of the plant. RED photobiology applied to strawberries makes it possible to increase yield, earliness, brix rate and homogeneity at the same time.
To find out more, discover the feedback from our strawberry growing customers by clicking on the links below: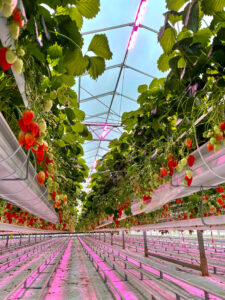 Category :
Solutions pour la production

2022 SIVAL Bronze medal winner
Company details
Company name: RED Horticulture
Address: 79 rue Saint-Pierre de Vaise
69009 LYON
Tel : 0427823794
Website : http://www.horticulture.red/fr
---