POTJET
ETS JOLLY
The PotJet dispenser is the latest development in pot dispensing technology from Mayer. The PotJet electric pot de-stacker stands out from other similar products on the market with its four spools mounted on a sliding frame.
Mayer's electrically driven PotJet de-stacker is suitable for both round and square stackable pots, resulting in increased flexibility. Pots are easily and efficiently de-stacked one after another, and do not stick together as they are fed individually to the Mayer potting machine.
It uses 4 stainless steel spools to separate the pots with great accuracy. This pot de-stacker is suitable for round pots of ø 8-40 cm and square pots of 6×6 cm to 27×27 cm, and can even work with electrostatically charged pots.
This PotJet system features a new touch screen control panel to quickly switch between pot sizes. Automated pot size change: simply select the required pot size on the touch screen and the dispenser automatically adapt to the setting for fast adjustment to the various types of pots.
The Mayer Potjet pot de-stacker is perfectly suitable for use on a conveyor belt or in synchronisation with a Mayer TM1010F or TM2400E potting machine.
The Potjet can be easily installed above the potting machine. The adjustable magazine height and positioning can be set by means of a crank handle.
The PotJet is in sync with the speed of the potting machine (driven by a geared motor) for an easier and well-balanced working pace.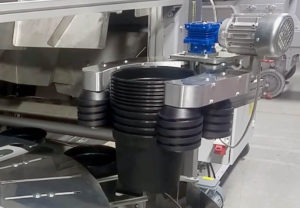 Category :
Machinisme et automatisme

2023 SIVAL Bronze medal winner
---