"E-Tract" TOOL CARRIER
ELATEC
E-tract is an electric tractor with a multi-purpose robotic tool carrier.
This highly innovative mechanical concept features 3 independent lifting systems – 1 front, 1 central and 1 rear – to enable farmers to use already available tools (hoeing tools, plastic film unwinder, seed drills, weed harrow, spraying boom, etc.).
It is also intended to be fitted with intelligent intra-row hoeing tools for various crops (camera-based tools + image analysis and fully electric actuators).
It boasts good driving performance thanks to a sturdy chassis, large wheels, electric power steering and a very high speed for a robotic system (> 6km/h).
It is also designed to work in slave mode with the Tract'Elec electric tractor.
Its mechanical design follows the typical concepts of farming equipment, with simple and standard parts, making it the first robot that can be easily maintained and repaired on the farm.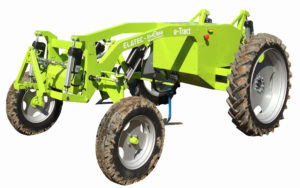 Category :
Machinisme et automatisme

2023 SIVAL Bronze medal winner
Company details
Company name: ELATEC
Address: Zone d'Activités
32380 TOURNECOUPE
Tel : 0536030056
Website : http://elatec.fr
---