OLMI "VORTEX" PNEUMATIC LEAF-REMOVER FOR APPLE TREES
OLMI S.R.L.
The VORTEX leaf-remover runs with pressurised air from a compressor. The leaves around the apples are removed by the air flowing through the rotors (4 rotating discs) at low-pressure to ensure apples are not damaged.
The main operation is carried out 15-20 days before harvesting.
Such measures improve the apples' redness thus increasing commercial value. Up until now, removing leaves manually was the only available technique, and a labour-intensive and costly one for that matter! With VORTEX, this task now becomes MECHANICAL to significantly cut production costs.
There is also a possibility for a second operation during the flowering period as a light thinning.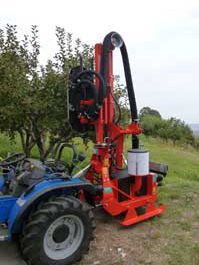 Category :
Machinisme et automatisme

2022 SIVAL Silver medal winner
Company details
Company name: OLMI S.R.L.
Address: VIA SERRAMASSONE 9/A
14055 COSTIGLIOLE D'ASTI
Tel : 0039-0141966268 -
Website : http://olmiagrivitis.it
---