NEW BOOK : Comprendre les fruits et légumes biologiques
BIO LOIRE OCEAN / INTERBIO
Producers in the Bio Loire Océan organisation are publishing their first book: "Comprendre les fruits et légumes biologiques/ Techniques culinaires et recettes au fil des saisons ("Understanding Organic Fruit and Vegetables / Culinary Techniques and recipes from Season to Season).
Co-authored by local cooks, this is the ideal companion for readers who want to prepare seasonal dishes and vary recipes as they please, using culinary techniques best suited to the properties of fruit and vegetables.
This book concept – dealing with both cooking and organic gardening – is unprecedented in France.
Company details
Company name: BIO LOIRE OCEAN / INTERBIO
Address: 2 rue des Fontaines
49330 Châteauneuf-sur-Sarthe
Tel : 0241273704
Website : http://www.bioloireocean.fr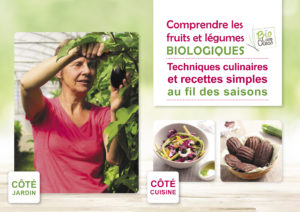 Nominated for SIVAL INNOVATION 2020
---