MULTIHEAD WEIGHER
MICHALAK MACHINES
MICHALAK's WK-10M, a multihead weigher with 10 weighing tanks, is a Must in high precision and fast paced vegetable weighing. It significantly boosts our customers' packaging efficiency.
Our unit is typically used to weigh potatoes and carrots and does it extremely well.
With our groundbreaking solutions, however, we decided to design a machine that can weigh ANY TYPE of vegetables, even those of irregular shape, large size (celeriac) or with roots that gets tangled up.
The Michalak WK-10M features several advances to help you perform tasks that cannot be fulfilled using machines with a different design.
1. Two distribution belts split the product between all the belts feeding the ten weighing tanks.
Michalak has come up with a solution to prevent vegetables (such as parsnip, parsley root, carrot) from getting tangled up and clogging the input of the scales.
The two belts interact with each other in the following way: the product is spread out by switching the direction of the belts' rotation and varying the speeds, so that nothing gets stuck before reaching the weighing tanks.
2. The weighing tanks are very big (15 L) so you can also weigh larger portions as well as bigger products such as celeriac. There is yet another advantage to our weighing tanks: 25 kg weighings are performed with great precision (at high speed) and in a single operation.
The tests we carried out with potatoes led to the following results: with a 25 kg weighing, there was a +0.1kg tolerance. Considering that weighing was carried out in only 5.5 seconds, we had a staggering +/- 15-17 t/h output.
Company details
Company name: MICHALAK MACHINES
Address: UL. SZARBIA ZWIERZYNIECKA, 2A
28-530 SKALBMIERZ
Tel : +48517898038
Website : http://michalak-machines.fr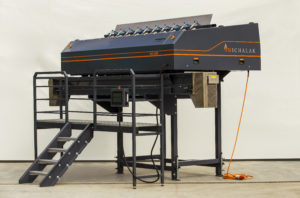 Category :
Presentation, marketing

Nominated for SIVAL INNOVATION 2020
---