ECO MARK NATURAL BRANDING
MBC
The EcoMark NB 6002 is the most efficient way to quickly brand fruit and vegetables with no packaging whatsoever.
The NB series is the most flexible, durable and cost-efficient branding machine on the market.
Say goodbye to packaging, stickers and glue!
This is the easiest way to cut your packaging costs!
The new camera technology recognises all the objects to be marked in just a few milliseconds. The information is immediately transferred to the laser. The laser processing time starts at 0.1 second per fruit.
Laser power of up to 120 W for maximum productivity.
Even lemons can be marked without any additional liquid, which means that the system is 100% organic.
The machine can be adjusted to any fruit in just a few clicks.
The operating costs of the machine are minimal, as there are no consumables.
The Natural Branding technique is a new laser printing process with no additives applied to the skin of fruit and vegetables.
Burning your brand directly on the skin of the fruit or vegetable peel…
it is now possible thanks to our technology. Repackaging, films, stickers, etc. are now a thing of the past.
ENVIRONMENT FRIENDLY
Truly organic – no plastic is used and the amount of energy required is small. EcoMark Natural Branding …
Something the organic food industry has long been waiting for.
Company details
Company name: MBC
Address: 10 rue Harispe
64200 Biarritz
Tel : 0642660836
Website : https://www.mbc-sarl.com/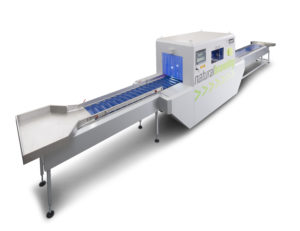 Category :
Presentation, marketing

2020 SIVAL Bronze medal winner
---