MONPROJETDECHAI.FR WEB SITE
CCMSA
The MSA's occupational health and safety services have created the first website to support the design or fitting out of wine cellars through questions about human interventions: monprojetdechai.fr
With this tool, the MSA wishes to help winegrowers in their reflection and introduce questions relating to future work operations and their implementation at an early stage.
Simple, intuitive and free of charge, it can be consulted on any connected equipment: computer, mobile phone, tablet, etc.
This site allows winegrowers to keep control of their projects by providing recommendations on the approach to be implemented (keys to success) and knowledge on the various stages of a project.
This reflection allows them to reduce uncertainties and avoid pitfalls, to adapt the work to the users and to facilitate the conditions for carrying out the activity, to gain in performance, productivity, wine quality…
Manufacturer's details
Company name : CCMSA
Address : 19 RUE DE PARIS
CS 50070
93013 BOBIGNY CEDEX

Website : https://msa.fr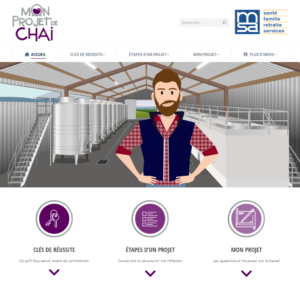 Category :
Services et Logiciels

2022 SIVAL Gold medal winner
Company details
Company name: CCMSA
Address: 19 RUE DE PARIS CS 50070
93013 BOBIGNY CEDEX
Tel : 0141637777
Website : https://msa.fr
---