Kiwi HAEGEUM
SOFRUILEG
HAEGEUM is a new variety of yellow-fleshed kiwi fruit (botanical name: Actinidia Chinensis)
developed under licence in Europe by the French company SOFRUILEG.
The innovative added values of HAEGEUM are:
-as regards consumers: a visually attractive variety with intense yellow flesh and a shiny brown hairless skin. A scented variety with a high quality taste.
-as regards trade: a variety that can cover the April to May market segment with a product of French origin, with an appealing taste and good shelf life.
-as regards producers: a variety with a good size, easy to pick and with high production potential. A variety with a good tolerance to the PSA bacteria and the main kiwifruit diseases. HAGEUM has limited needs in cold periods. Recommended for cultivation in France under wind and hail protection.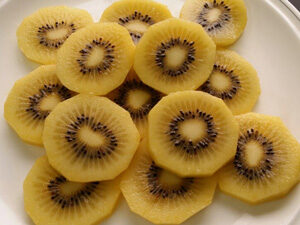 Category :
Varietal Innovation
Company details
Company name: SOFRUILEG
Address: 45 chemin de peyrelongue
40300 LABATUT
Tel : 0613891433
Website : http://sofruileg.com
---