MIA P.V.R. AND MANERA P.V.R. APRICOT TREES
DALIVAL SAS
The main obstacles to the cultivation of apricots north of the Loire river are, on the one hand, the early flowering date of the apricot and, on the other hand, the susceptibility to diseases such as bacterial blight and moniliosis, which are closely linked to the cold and wet climatic conditions of these regions.
For 15 years, the Swiss research station of Agroscope has been conducting an apricot  hybridisation programme to obtain hardy and tolerant varieties with good taste qualities.
Two varieties emerged from this programme and will enable apricot growers in low altitude areas in the northern half of France and even organic growers to grow apricots.
Manera P.V.R., a medium-sized, two-coloured orange-red apricot with good juiciness and light aromas, has good a tolerance to diseases, particularly to moniliosis, which makes it very suitable for organic cultivation.
Mia P.V.R. is rounder and slightly smaller than Manera P.V.R. but redder, sweeter and more aromatic. Mia P.V.R. is tolerant to bacterial blight and its skin is more resistant to rain spots and handling.
Both varieties have a good production potential but must be planted together to pollinate. Both varieties are harvested 2 weeks apart (Manera P.V.R. first and then Mia P.V.R.), which allows for staggered marketing.
Manufacturer's details
Company name : Varicom GmbH
Address : Varicom GmbH
c/o Agroscope
Schloss 1, Postfach
8820 Wädenswil
Suisse

Website : http://varicom.ch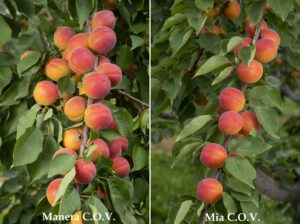 Category :
Innovation variétale

2022 SIVAL Bronze medal winner
Company details
Company name: DALIVAL SAS
Address: Château de Noue
02600 Villers-Cotterêts
Tel : 0323965650
Website : http://dalival.com
---