FRISELINE®, THE LITTLE LETTUCE FULL OF CHARACTER!
VILMORIN SA
This varietal innovation from Vilmorin comes with an innovative approach from endive producers: a new genetic variation (the Bobine forced curly chicory variety) and marketing materials for consumers about the FRISELINE® brand!
A NEW GENETIC VARIATION
Vilmorin presents a new product type, produced after more than 20 years of selection by natural cross-breeding between different chicories. It is produced using the production tools of endive growers from sowing to harvest.
A GLOBAL APPROACH, FROM THE SEED TO THE CONSUMER
For Vilmorin, this is a new vision of innovation and customer relations. This new approach brings with it a new solution for diversification in the chicory growing sector. It offers producers a unique product which comes with a complete brand concept: FRISELINE®.
In an environment where chicory consumption is struggling, this package enables the sector to develop in a new market, salad leaves, and target new consumers with a tailor made offer.
By mobilising the expertise of everyone in the chain, this strategic and value creating project follows a structured and rigorous collaborative approach in which Vilmorin and the producers work together.
FRISELINE®, LOTS OF BENEFITS FOR THE CONSUMER
FRISELINE® is a new salad leaf, which looks and tastes unique, and has many uses. FRISELINE ®, tastes great every day!
Its character comes from its specific flavours: a perfect blend of interesting tastes. With leaves which are both soft and crunchy it creates a real sensation of freshness in the mouth.
For anyone looking for quick, original and tasty meals, FRISELINE® is easy and quick to prepare, all you need to do is separate the leaves by cutting 1cm from the bottom.
The FRISELINE® salad leaves are sown and harvested by producers in Northern France. The seeds and the packaging are also 100% made in France!
Available in supermarkets, hypermarkets and restaurants from December 2016.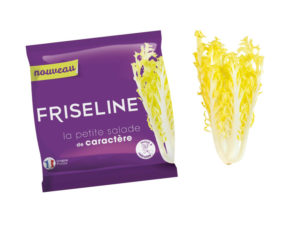 Category :
Innovation variétale

2017 SIVAL Bronze medal winner
Company details
Company name: VILMORIN SA
Address: ROUTE DU MANOIR
49250 LA MENITRE
Tel : 0241794179
Website : http://www.vilmorin.com
---