CH201 C.O.V.
DALIVAL
CH 201 C.O.V. is a new green / yellow pear variety tinged with a beautiful red blush. It boasts great flavours, outstanding agronomical properties and a very high storage potential. The pears will be marketed under the Fred® brand name.
This variety was obtained by crossing Harrow Sweet and Verdi varieties as part of Agroscope's breeding programme in Switzerland.
These pears are firm, almost crunchy, and extremely juicy, with a good sugar content and a slight astringency, which make them fresh and original. Tests have shown that such tasting qualities were very popular with consumers. The fruit grow to a good 65/80 size.
Their potential shelf-life is very good, right until the end of April (or even longer) when stored below zero.
This tree is easy to manage, production can start quickly with great – and more importantly – regular output (no alternate bearing). Such features are seldom found combined in a single pear tree. Harvesting usually occurs 2 to 3 weeks after the Conference pear's. In addition, this variety is fire-blight tolerant, with a good resistance to all pear diseases and pests.
The firm fruit is not particularly sensitive to handling at the station and in shops and is suitable for "on-the-go" eating.
In addition to its technical properties, this new variety of pear has an original appearance and a firm and almost crunchy texture.
Manufacturer's details
Company name : Varicom GmbH
Address : Varicom GmbH | c/o Agroscope | Schloss 1, Postfach | 8820 Wädenswil | Schweiz

Website : http://varicom.ch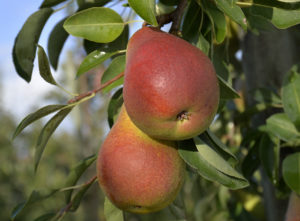 Category :
Innovation variétale

2020 SIVAL Gold medal winner
Company details
Company name: DALIVAL
Address: Château de Noue
02600 Villers-Cotterets
Tel : 0323965650
Website : http://dalival.com
---