CARÉ® DRIVE
JRC Solaire
CARÉ® drive: A new energy for a sales outlet on your farm
Building customer loyalty has become a major challenge to enhance the attractiveness of shopping locally.
By giving your sales outlet a modern and dynamic image, you directly meet your customers' expectations: to be welcomed.
Welcoming visitors is an essential part of the customer experience. And it all starts with their arrival in the car park.
The car park is indeed the first and last thing the visitors see. Yet this space is not valued.
By responding to the consumers' expectations of comfort, time saving and information, JRC SOLAIRE provides a turnkey solution and transforms the car park of your farm shop into a real growth driver.
CARÉ® drive is an energy-producing carport that offers multiple functions.
– With your logo, it makes you visible.
– It delineates a space designed to welcome motorists and effectively materializes the access point for product withdrawal.
–  As a communication tool, thanks to a customizable cover, it takes over from your website.
– With its cover, it shelters the customers from bad weather who can then load their purchases without getting wet
– Equipped with innovative photovoltaic panels, the CARÉ® carport produces nearly 6,500 kWh per year. The self-generated and self-consumed energy becomes a new source of savings for the sales outlet. When sold, it generates a new source of income.
– CARÉ® can be equipped with an EV charging station and offers the possibility of recharging your own electric vehicle.
By becoming a producer of green energy, you also underline your commitment to customers who are sensitive to environmental issues.
Better welcomed, better protected, better informed, the consumers have an additional reason to come back to shop locally with You.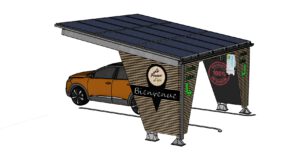 Category :
Presentation, marketing

Nominated for SIVAL INNOVATION 2022
Company details
Company name: JRC Solaire
Address: La Brosse Goubault
49120 Chemillé en Anjou
Tel : 0241307515
---