A 1KG CARTBOARD TRAY WITH LID AND AUTOMATIC BOTTOM
PACK VERT EMBALLAGE
A 100% single material cardboard tray that is environmentally friendly!
Manufactured with one single material instead of 2 or 3 this tray offers the same functions.
It replaces the classic wooden tray covered with a plastic film and its elastic band to hold it together. It also replaces the cardboard tray with a lid or plastic film.
This tray has an automatic bottom, allowing it to be assembled quickly and easily, considerably saving time and space. Delivered flat, the tray can be unfolded in a single movement and therefore takes up little storage space!
The surface area is further optimised by the handles integrated in the lid and which do not take up any extra space.
The perforated lid and sides provide good product visibility without the use of plastic. The lid also has an anchoring system which makes the closing system tamper-proof and resistant!
It is 100% recyclable and biodegradable and can be folded after use to facilitate sorting and recycling of the product.
This micro flute tray is therefore perfect for packaging fruit or vegetables up to 1kg!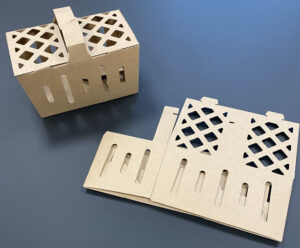 Category :
Presentation, marketing

Nominated for SIVAL INNOVATION 2022
Company details
Company name: PACK VERT EMBALLAGE
Address: 8 Avenue du 45ème Parallèle
26600 Pont de l'Isère
Tel : 0475561515
Website : http://www.packvert.com
---