Biopose (r)
Invenio
The use of drones in agriculture opens up an opportunity for new services. The product presented is structured around a solution for installing mating disruption diffusers in large trees.
Experiments conducted by Invenio have demonstrated the value of mating disruption diffusers, an organic solution, to control the chestnut codling moth. This pest can be responsible for more than 50% of crop losses. Conventional pest control using crop protection solutions is on the one hand, along with fertilisation, the only means of fully organic orchard management and on the other hand not very effective due to the configuration of the trees. In addition, when using organic pest control against gall wasps, insecticide treatments also need to be limited.
Biopose is therefore a solution whereby mating disruption can be used to the best advantage in chestnut orchards. The principle consists of using drones to position the diffuser in the upper third of the tree.
The operation takes place in two parts:
(1) An initial reconnaissance drone to identify the area and define the airdrop points and thus optimise the flight plan. This initial flight to analyse the orchard also enables video information to be recovered that will subsequently be used as technical support.
(2) A second delivery drone is used to drop the mating disruption diffuser.
Biopose is therefore presented as a technical support service which includes orchard management expertise using aerial information (quality of growth, quality of grafting, quality of pollination and estimated yield) combined with an orchard protection service using mating disruption. The innovation lies both in the use of new tools (mechanised design and drones) and in setting up a complete technical support and orchard protection service.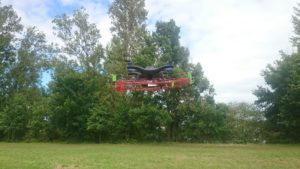 Category :
Services et Logiciels

2017 SIVAL Silver medal winner
Company details
Company name: Invenio
Address: Domaine de la Grande Ferrade, 71 Avenue Edouard Bourlaux
33883 VILLENAVE D'ORNON Cedex
Tel : 0607191817
Website : http://www.invenio-fl.fr/
---