Aubergines CleanLeaf®
RIJK ZWAAN FRANCE
CleanLeaf® is a new generation of aubergines with virtually no trichomes (hairs) on the leaf, stem and calyx of the fruit. This feature enhances the effectiveness of integrated pest management to achieve a more sustainable crop, reducing the use of plant protection products and remedial measures. With CleanLeaf varieties, no hairs are released into the greenhouse atmosphere, thus reducing allergies and improving working conditions for employees. Another advantage is that fruits are more attractive to consumers because of their bright, shiny appearance.
CLEANLEAF OPTIMISES INTEGRATED PEST MANAGEMENT
CleanLeaf is less attractive to whitefly and thrips larvae than standard varieties. In various trials, less whitefly development (eggs, nymphs and adults) was observed on CleanLeaf. When a standard variety and a CleanLeaf variety are placed in the same greenhouse, increased pest pressure can be observed on the standard aubergine.
Meanwhile, the population of thrips larvae is significantly reduced. As a result, adult thrips develop much less in CleanLeaf greenhouses. The lower pest pressure, combined with easier movement for the predatory mite Amblyseius swirskii used in biological control, enables the mite to do its job more effectively. This reduces or even eliminates the need to apply remedial measures or plant protection products.
CLEANLEAF IMPROVES WORKING CONDITIONS
Because trichomes are highly allergenic, it is particularly difficult to work with standard aubergines in a tunnel. With CleanLeaf varieties, no hairs are released into the greenhouse atmosphere during cultivation tasks. This improves working conditions for employees, who no longer suffer from irritated skin and mucous membranes.
CLEANLEAF PRODUCES MORE ATTRACTIVE FRUIT
The more efficient integrated pest management (IPM) results in a healthier product for consumers.
Secondly, better control of pests (whiteflies and aphids) reduces the presence of sooty mould and mildew on the fruit. This makes the product more visually appealing.
Lastly, the reduced amount of trichomes on the calyx of the fruit is perceived very positively by consumers, who like the strong contrast of the bright green calyx with the intense black of the fruit skin.  Consumers associate this characteristic with maximum product freshness: a decisive factor in the buying process.
CLEANLEAF MEETS THE EXPECTATIONS OF ALL PLAYERS IN THE CHAIN RIGHT THROUGH TO THE CONSUMER
From grower to marketer to consumer, Rijk Zwaan's CleanLeaf concept meets the growing expectations of sustainability through its effective IPM cultivation method and its impact on reducing food waste.  Kesia RZ, the first CleanLeaf aubergine variety, recently launched, has an excellent shelf life. This means savings for all the players involved in the industry, who benefit from a fresh and attractive product for longer, from harvest to shelf to consumer.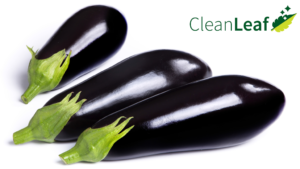 Category :
Varietal Innovation

2023 SIVAL Silver medal winner
Company details
Company name: RIJK ZWAAN FRANCE
Address: Route de la Vernède
30390 ARAMON
Tel : 0466574989
Website : http://www.rijkzwaan.fr
---