Modul'Wine
SAICA PACK
This modular corrugated cardboard wine rack, developed by Saica Pack, is highly economical, easy to use and adapts to all types of bottles.
It is quick and easy to assemble: just roll it up and fold it to form 2 boxes in 2 seconds. Its easy grip makes it easy to insert into the case.
– Modular :
o Depending on the number of bottles (1,2,3,4,6,9,12) thanks to its divisibility,
o Depending on the format, can hold other objects (carafes, jars, etc…) with its deformation possibility
– Maintain in position by simply bringing the 2 parts together before insertion into the box
– Logistical savings as it is delivered flat and therefore takes up little storage space
Finally, this solution is made from 100% recycled and 100% recyclable material, making it easy to recycle and sort, as it can be flattened very quickly
With its minimalist design, it can be shaped very quickly and is suitable for all types of bottles or fragile containers.
Manufacturer's details
Company name : SAICA PACK BEAULAC
Address : Chem. de Tierrouge, 33430 Bernos-Beaulac

Website : http://saica.com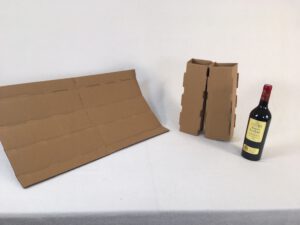 Category :
Conditionnement, mise en marché

2022 SIVAL Bronze medal winner
Company details
Company name: SAICA PACK
Address: 15 avenue leonard de vinci
33600 PESSAC
Tel : 0656079697
Website : http://saica.com
---