5am-Market
SAS 5AM
5am-market is the first online market place specifically for professionals in the fruit and vegetable sector.
5am-market enables all professionals involved in the fruit and vegetable trade (growers, shippers, traders, processors, wholesalers, buyers etc.) to submit and consult product offerings and calls for tenders.
By centralising supply and demand, 5am-market becomes a work tool with various functions:
– Commercial tool: Quick and easy access to wide-ranging and targeted business potential.
– Communication tool: Increased visibility for member companies and their products. 5am-market enables users to develop their reputation on the market.
– Monitoring tool: Continuous access to market trends. Members are kept up to date with transparent published content.
– A community of experts: 5am-market provides an opening to a broader high quality network. Members can interact with experts from their sector only.
The innovation lies in the use of powerful digital and mechanical technologies, hitherto unexploited in this sector, and aims to facilitate the daily lives of professionals in the sector.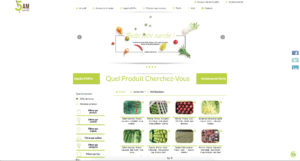 Category :
Services et Logiciels

Nominated for SIVAL INNOVATION 2017
Company details
Company name: SAS 5AM
Address: 5 Rue de Kourou
31240 L'Union
Tel : 0683575525
Website : http://www.5am-market.com
---