Vegetal Grow Development
VGD Vegetal Grow Development
VGD Vegetal Grow Development introduces a plant lighting platform, consisting of LEDs, one control box, and real-time light spectrum sensors. In just a few days or weeks, regardless of the existing infrastructure (greenhouses / indoor / vertical farming, LED/ sodium lamps…), VGD sets up an IA-assisted turnkey solution which:
– Improves plant growth depending on the type of crop and the growth phase.
– Reduces energy consumption thanks to LEDs and IA-assisted real-time control.
– Keeps the use of various inputs to a minimum.
– Significantly improves yield per m2 and crop distribution.
– Optimises the natural cycles of plants.
Company details
Company name: VGD Vegetal Grow Development
Address: 1241 Chemin du Mas de Grichaud
13160 Châteaurenard
Tel : 0486658338
Website : http://www.vgd-led.com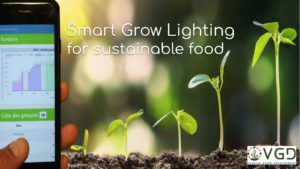 Category :
Services, software

2020 SIVAL Bronze medal winner
---