The "Tolériante" range
GRAINES VOLTZ - VOLTZ MARAICHAGE
The "Toleriante" tomato range contains three complementary varieties of tomatoes especially selected for open field production. DEFIANT F1, GALADIANT F1 and PROSPERIANT F1 all tolerate the types of mildew found in France, which gives them a real advantage in open field cultivation.
More or less virulent depending on the year, the cryptogamic disease had a considerable impact during the 2021 campaign and the cool, humid climate of its summer months. The disease tolerance of the DEFIANT F1, GALADIANT F1 and PROSPERIANT F1 varieties helps growers increase their economic benefits through good yields and healthy crops throughout the season. It is also a suitable range for growers looking to increase their tomato production area without costly investment in tunnels or shelters. Open field cultivation is also less labour-intensive, as no pruning or trellising is required.
With these three varieties, VOLTZ Maraîchage now has a comprehensive range of red tomatoes for the open field: DEFIANT F1 is a normal sized round red tomato; GALADIANT F1 is a larger tomato with fruits that can reach 280-300 grams; PROSPERIANT F1 is a variety of plum tomato suitable for transforming into coulis.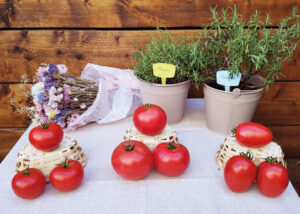 Category :
Manufacturing solutions
Company details
Company name: GRAINES VOLTZ - VOLTZ MARAICHAGE
Address: Z.A. La Perrière - 17, rue Lavoisier
49800 LOIRE-AUTHION
Tel : 0241545710
Website : https://www.voltz-maraichage.fr
---