SMART PRESS
PERA-PELLENC SA
The new range of SMART PRESS smart and qualitative pneumatic presses consists of open cage (SPO) from 40 to 150hl and closed cage (SPC) from 20 to 150hl models.
SMART PRESS incorporates the latest innovations from PERA-PELLENC as standard:
– Smart management and optimised pressing system EASY PRESS 2,
– Intuitive multi-touch HMI TOUCH PRESS,
– FAST PRESS drainage grills covering the inside of the press (on closed cage presses).
SMART PRESS has been developed to make savings (in time and energy), to simplify using the wine press, to improve user safety and facilitate washing while improving the quality of the juice.
Manufacturer's details
Company name : PERA-PELLENC SA
Address : avenue d'Agde
34510 Florensac

Website : http://www.pera.fr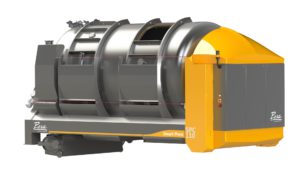 Category :
Machinisme et automatisme

Nominated for SIVAL INNOVATION 2017
Company details
Company name: PERA-PELLENC SA
Address: Avenue D'Agde
34510 FLORENSAC
Tel : 0467770121
Website : http://www.pera.fr
---