S CLEAN®
SARL SOLHEAD
The S CLEAN® hand-washing system with soap dispenser can be mounted on the handrail of a tractor cab.
Our hands are the main exposure route for potential contaminations: they represent 60 to 80% of all direct or indirect contact with chemicals.
With the exception of compulsory handwashing systems on sprayers, farmers had, until recently, no practical solution available to wash their hands, particularly when sowing.
S CLEAN was developed in cooperation with SYNGENTA and SOLHEAD before field tests were conducted. Feedback from participants was then used to improve prototypes.
With the attractive, unobtrusive and highly practical S CLEAN®, you can now wash your hands in the field just before stepping into the cab with clean hands for enhanced comfort and to protect your electronic equipment.
The patented TWIXPER™ valve mounted on the S CLEAN® is a very convenient dual control dirty/clean hand system to avoid getting your hands dirty after washing them.
The S CLEAN® handwasher has a capacity of 3 litres of water and is fitted with a soap dispenser with dosing device. You can then wash your hands 5-10 times while out in the field.
Provided with an adjustable flange system, it is easily installed on a wide range of tractors, seed drills, combine-harvesters, fertiliser spreaders, grape harvesters…
S CLEAN is available on SOLHEAD's online shop and comes as a kit with assembly instructions.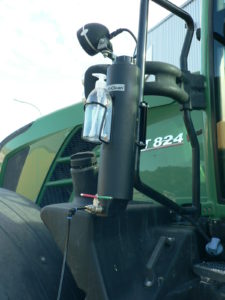 Category :
Solutions pour la production

Nominated for SIVAL INNOVATION 2020
Company details
Company name: SARL SOLHEAD
Address: ZA DE LARQUE
47130 MONTESQUIEU
Tel : 0967326384
Website : http://www.solhead.fr
---