Prestop 4B
BIOBEST FRANCE
Prestop 4B is the first and only organic fungicide applied not by producers, but by the Flying Doctors® bees from Biobest.
Prestop "For Bee" is a specially developed formulation for application by bees containing the natural fungus Gliocladium catenulatum J1446 and developed by Lallemand Plant Care.
G. catenulatum J1446 is a biocontrol agent for grey rot, a disease caused by the pathogen Botrytis cinerea. To eliminate grey rot, G. catenulatum J1446 works in several ways: it occupies the space before B. cinerea can settle, and destroys the cell walls of B. cinerea with enzymes.
In strawberry and raspberry crops Botrytis cinerea enters when the plants are flowering. The disease often remains latent for a prolonged period of time. The symptoms of grey rot are only visible on fruit at harvest time, during storage, or during the distribution chain to the consumer.
When the Flying Doctors® – Prestop® 4B combination is used, it is the bees which are responsible for applying the product directly on the flowers. The bee hives are equipped with a dispenser through which the bees have to pass to get out of the hive. The Prestop 4B which is already in the dispenser then attaches itself to the body of the bees. The bees then deposit the biocontrol agent on each pollinated flower, thus ensuring targeted and continuous protection.
The French authorities have given Marketing Authorisation (MA) to Prestop 4B for application by bees, for the following uses:
Raspberry*Air.Part. Trt*Grey rot.
Strawberry*Air.Part. Trt*Gray rot and sclerotinia.
Prestop® 4B contains 1×108 cfu / g of G. catenulatum J 1446 and is available in 100g aluminium sachets. It comes with a dosing spoon for use with the dispenser.
For the best results for strawberry crops Prestop 4B® is available as part of the "Prestop Combi Pack®", a grey rot control programme combining the application of Prestop 4B® by the Flying Doctors® in the flowering phase, and applications of Prestop® (wettable powder formulation of the biocontrol agent Gliocladium catenulatum J1446, for spraying).
catenulatum J1446, for spraying).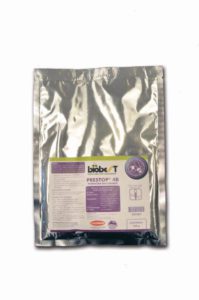 Category :
Intrants Protections des cultures et fertilisation

2017 SIVAL Gold medal winner
---