NoNa⁺
RIDDER
By applying sustainable recirculation practices, farmers can produce high quality crops in the safest possible way, with minimal use of irrigation water and fertilisers. The problem with recirculated irrigation water, however, is the unavoidable sodium build-up that leads to lower yield levels.
More often than not, existing technologies intended to assist growers in reducing sodium levels in their pipelines and irrigation water, are inadequate. In addition to minimising sodium levels, reverse osmosis technologies for instance remove expensive and reusable fertilisers and valuable multi-purpose ions. As for ion exchange technologies, they rely on costly additional minerals such as potassium chloride.
Introducing Ridder's NoNa +, the world's first water treatment unit that enables selective sodium removal and provides growers with the benefits of recirculation without having to worry about excessive sodium levels in their irrigation water or loss of expensive fertilisers.
Fitted with a state-of-the-art selective membrane technology and an electrodialysis treatment system, Ridder NoNa + is the most advanced and cost-effective water treatment technology. It helps growers reduce yield losses due to sodium build-up, as well as watering and fertilising costs, minimise wastewater discharge and ensure sustainable recirculation.
Ridder NoNa + is the ideal solution for growers with heavy fertiliser costs or poor access to high quality irrigation water, and allows them to start saving and grow healthier stronger crops.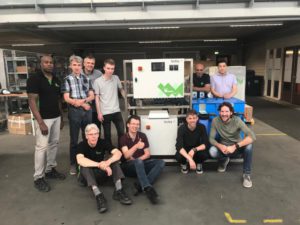 Category :
Machinisme et automatisme

2022 SIVAL Gold medal winner
Company details
Company name: RIDDER
Address: 15 Bis Avenue des Frères Lumière, Zone de la Guerche Sud
44250 Saint-Brevin-les-Pins
Tel : 0240390304
Website : http://www.ridder.com/fr
---