MOBILE ANTI-FROST WIND MACHINE
SARL RIVIERE ET FILS
This wind machine is made to protect crops against frost in the spring.
Protection is based on temperature inversion.
It works in the direction of the cold air current or rotates completely.
The wind machine can be moved according to needs
– Folding, mobile wind machine tower
– low fuel consumption (5 litres/hour)
– starts and stops automatically
Technical specifications:
Type of engine: Honda 23 HP V-Twin
Fuel consumption and storage: conventional unleaded petrol required. For security and to facilitate storage, the fuel tanks are removable.
Turbine: made from very high quality cast alloy
Performance testing carried out according to international industrial standards
coated, air flow increased by at least 30%
It blows air long distances without obstruction, so there is no loss of air flow
adjustable rotation speed
oscillating properties
additional head tilting option
Air speed: 21 m/s
Noise: 45dB at 300m
Portability: can be towed using a tractor or utility vehicle to the required location; stabilise the supporting base to secure the position and set the operating level
Maintenance: the mast can be lowered to ground level to facilitate engine and turbine maintenance.
Wheelbase length: can be ordered with a narrow or wide wheelbase to suit plantations.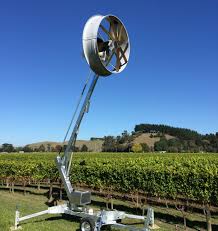 Category :
Machinisme et automatisme

2017 SIVAL Bronze medal winner
Company details
Company name: SARL RIVIERE ET FILS
Address: PARC ACTIVITE BENAIS RESTIGNE- 4 RUE DU CHANGEON
37140 BENAIS
Tel : 02.47.97.46.77
Website : http://www.riviere-sarl.com
---