LEAFCROP
SENCROP
Leafcrop, Sencrop's brand-new sensor system, is a major breakthrough for the tree, cider and winegrowing industries.
Leafcrop includes:
– 1 moisture sensor to find out – as currently performed – if there is any free moisture on the sensor, but also to determine the exact quantity. By mimicking the characteristics of a leaf and using the shape of a real leaf as a starting point (mimicry), Leafcrop produces an identical reproduction of a leaf wetness cycle – a major asset in disease detection.
– 6 other height-adjustable sensors, temperature and moisture level sensors with measurement redundancy for increased reliability (3 temperature and 3 moisture level sensors) and predictive maintenance system, combined to minimise or even eliminate any measurement deviation.
– quality and consistency algorithms related to services essential to any efficient and reliable system for farmers and their partners. A software layer enables the system to self-correct and safeguard the quality of services for partners offering agronomic assistance based on Leafcrop's data.
Leafcrop can measure weather data on a plot with great accuracy.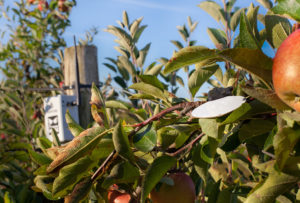 Category :
Services et Logiciels

2023 SIVAL Silver medal winner
Company details
Company name: SENCROP
Address: 2 rue fourier (Euratechnologies)
59000 Lille
Tel : +33 972606440
Website : http://sencrop.com
---