KEEPER
G-KEEP
The groundbreaking Keeper provides real time analysis of the fuel quantity available in a tank, immediately pointing out any unusual drop.
In the event of a fuel theft or tank break-in, a 100dB alarm is set off and a SMS is sent to pre-programmed phone numbers as a real-time notification.
This device is fully non-intrusive, easy to install, fast and does not require drilling any holes into the fuel container.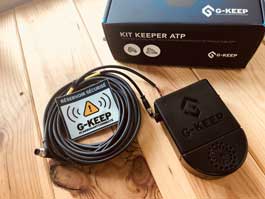 Category :
Services et Logiciels

Nominé pour le SIVAL INNOVATION 2019
Company details
Company name: G-KEEP
Address: 1 avenue du champ de mars
45074 Orléans Cedex 2
Tel : 0238698036
Website : http://www.g-keep.com
---