Kaori Kuri F1
Enza Zaden
Kaori Kuri is the new Red Pumpkin hybrid created by Vitalis, part of the family company Enza Zaden. The seeds are available in both organic and conventional.
Pumpkins and Squashes' consumption is increasing in Europe, specifically in France and in Germany. Red Pumpkin in particular, which is often produced in organic and local conditions, is now a well-known product appreciated for its taste and the fact that it can be easily cooked.
Vitalis, leader in France with the variety Orange Summer, wants to help doubling the red pumpkins' consumption for 2023. Coming with this goal, the research department launches innovative varieties, bred on traits allowing an easier management of red pumpkin for farmers and sellers, keeping in mind the importance of presenting a high quality product to the consumer.
This statement has led to the creation of Kaori Kuri, available on the market since 2019. Kaori Kuri has just won the "Silver Medal" award at the French SIVAL Competition in the category Varietal Innovation after examination by a dedicated jury.
Kaori Kuri is indeed innovative, because it gives solutions to three major issues for the professionals in the red pumpkin sector.
1) Storage
Coming with the high demand for red pumpkin between February and March, the actors of the sector must be more and more ingenious to be able to keep fruits harvested at the beginning of Fall season. Harvest time and storage conditions must be optimal. Genetic can also help, as we know that there are varietal differences on storage capacity. Studies have been realized by Vitalis, Enza Zaden and public research organizations. They show that, under the same conditions, Kaori Kuri is able to store at least three more weeks than market standards such as Uchiki Kuri. Kaori Kuri allows then to length the sell period of red pumpkins locally grown and to avoid the use of importations to satisfy the winter demand from the consumers.
2) A good behavior with virus
2019 has been the year of high virus pressure in the fields. In France, South-eastern and Western regions have been highly impacted with long heat waves promoting aphids' presence. Austria and Germany are also dealing with this issue for several years. Kaori Kuri owns Intermediary Resistance genes that allows a production with less symptoms on the fruits than the market standards in medium virus pressure conditions.
3) A good taste and a nice look
Taste is one of the biggest parts in Vitalis breeding who is looking, after Orange Summer, to keep launching tasty varieties with a high sugar content. This is the case of Kaori Kuri, from which its name, meaning in Japanese "Pleasant taste" (Kaori) "Of chestnut" (Kuri). Its fruits weighting around 1,2kg with a shiny red colour and its traditional shape will satisfy the buyers who are careful with the quality of their products."
ENZA ZADEN Silver Medal at the SIVAL Fair 2020 with Kaori Kuri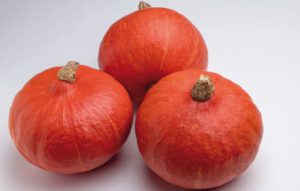 Category :
Innovation variétale

2022 SIVAL Silver medal winner
Company details
Company name: Enza Zaden
Address: 23 route de la Gravelle
49650 Allonnes
Tel : 07 76 17 03 19
Website : http://enzazaden.fr
---