HORTIMAX GO!
HORTIMAX SARL
HortiMaX-Go! is the all-new horticultural computer designed for producers who are starting to grow protected crops and looking for an entry level computerised system . It is the perfect alternative to current Dutch high-tech solutions which are often too complex or expensive. HortiMaX-Go! is unique and differs from other horticultural computers in that it provides:
Integrated irrigation and climate control:
Compared to conventional computers in this price range, one of the most remarkable features of HortiMaXGo! is that it has integrated climate, irrigation and fertiliser dosage controls. This enables you to view all the greenhouse control data together on one screen. As you no longer need multiple computers, HortiMaX-Go! can save you a significant amount of money.
Modern user interface:
At present, affordable regulation systems are generally equipped with extremely limited user interfaces, with only a few control buttons and small black and white screens which only display one or two lines. Unlike these models, HortiMaX-Go! comes with a large modern colour touch screen. The software has been specially designed to provide an overview at a glance and in a few short clicks. In fact, it is as easy and intuitive to use as a smartphone.
Customised solution:
HortiMaX-Go! is a customised solution: Producers only select the components required depending on their crops, their greenhouses and their needs. HortiMaXGo! is also more scalable than other horticultural computers on the market and suits all budgets.
The standard HortiMaX-Go! model comes with all the necessary software and automatically configures itself according to the "plug-and-play" principle. This is like connecting a mouse or a keyboard on a PC, when the system automatically recognises the connected device.
Smart Switch:
The analogue input and output signals from the computer and the manual control switches have been combined into "Smart Switches". A Smart Switch features smart functionality to perform its specific function for the connected equipment Each Smart Switch communicates with the central regulation system via a shared network cable (digital bus).
This system is unique in that with conventional horticultural computers, the analogue control signals must be connected individually and there is no two-way communication between the regulation system and the equipment. Another advantage: the regulation system can monitor the status of the connected equipment at any time.
If necessary, the regulation system can switch the equipment to the required automatic mode or generate a warning message, so quick adjustments can be made.
"Plug-and-play" installation
Another significant advantage of the Smart Switches: They are simple to install and commission thanks to the digital bus system. Your network is easy to build and expand by connecting one Smart Switch to another. This connection method provides
significant savings on installation and cabling costs. It also makes the system easier to install and upgrade later. In addition, the cabling remains extremely manageable, even in large systems.
Guaranteed access anywhere, any time, and on any device
HortiMaX-Go! can be accessed anywhere in the world, at any time. It features a responsive design, making it compatible with any device that uses iOS, Android or Windows. This gives you maximum access and control over your greenhouse.
Manufacturer's details
Company name : HORTIMAX BV
Address : Honderdland 131 | 2676 LT Maasdijk | Netherlands
P.O. Box 33 | 2676 ZG Maasdijk | Netherlands

Website : http://www.hortimax.com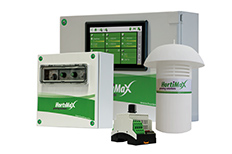 Category :
Machinisme et automatisme

2017 SIVAL Silver medal winner
Company details
Company name: HORTIMAX SARL
Address: AVENUE DES FRERES LUMIERE - BAT C
44250 SAINT BREVIN L'OCEAN
Tel : 0240390304
Website : http://www.hortimax.com
---